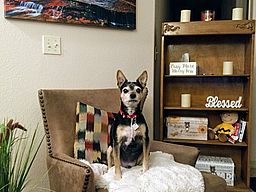 Clients used to love to see him. As soon as he heard the outer door pull open, he would pounce off the chair with the comfy faux fur to greet whoever was coming in. Then, as soon as they would sit down, he would jump up on the couch (or the chair) to be close. (Unless you don't like that kind of thing. Which is okay. He was disappointed, but he would wait for the next person.)
Of course, it's my dog, Chicago, a chihuahua – terrier mix! He used to be the highlight of client's visits. Many would get a soft smile on their face as they stroked his neck or belly. Being on his back was his favorite position. Still is, but I've often got my hands full these days. I am facing the camera and the computer.
The dog lovers would be curious about him, asking things like, "how old is he" or "how did he get his name?" "Is he from Chicago?" Once in a while, one would offer to take him out.
One person suggested that we should create a social media page with him posing as the therapist. "Put little glasses on him." "A little bow tie." The exclaimed, "I'd follow him!"
Others, only a few, thank goodness, told me, "I come in to see him (not you as much)." I don't blame 'em. I like being around him, too. He makes my days better. He helps make serious sessions less intense. He's one of the those guys you don't mind walking on live camera.
Now, where is Chicago? Sometimes, like in that pic above, he is in that chair behind me. This mostly black dog sitting there in the chair on the same white faux fur and chair that is now at my home office.
That's the exception these days. More often, he is back in the closet on his little bed. It is dark back there so I worry about him. I go back to check on him, and he stretches and comes over to see me. He must be bored. He doesn't get to greet anybody anymore. Well, kinda.
All I have to do is start using some masculine pronouns, "he" or "him," or his name, and he comes to check us out. It's almost like he is saying, "whatcha need?" "I'm here!"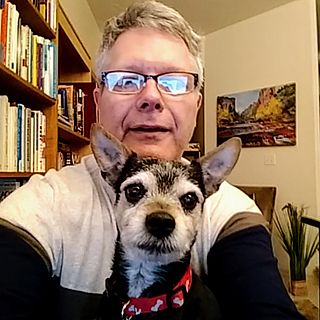 He does show up when it is getting late, too. He can often tell when that the last session is ending (must be the tone of our voices). Most nights, he shows up and is jumping on my leg, wanting to get picked up. That's how he gets on camera! (Of course, what he really wants is to go out and eat his snack, but I get him to say hello sometimes.)
I don't plan to go back to working in the office face-to-face. I serve more than Colorado Springs now. But you better believe that I keep trying to get that guy to show up more for sessions even for a couple minutes. (I even moved his big bed out so its right next to me. It hasn't worked very well yet. I have considered getting a little chair so he can sit next to me and can look at each other. It'll be a little cramped but worth it.)
I think he misses seeing everybody. I know he misses the attention.
If you want to see him, just let me know. I'll call . . . "him" or "he" or "Chicago," and he'll be here in a flash!
This is mostly in service to what I do – help couples and men with their relationships.
So, some of you may be missing that guy, your husband or boyfriend, metaphorically (you might live in the same home but it feels cold and distant) or physically (he lives somewhere else). Some of you guys might be missing who you used to be. You've have lost yourself in your work or relationship. If you want to focus, on one or more of these issues, in a way that can really make a difference, please reach out. "We" are glad to help you!
The best way to reach me is to go to the contact page on my website. Make sure you let me know that best time to reach you so we don't end up playing phone tag. You can also call me at 719-460-4185!
Be safe and healthy, physically, emotionally, relationally.